The offshore North West Shelf is a world class hydrocarbon province and extends for approximately 2,400 km along the northwest margin of the Australian continent.  To date it has produced over 10 billion barrels of oil equivalent. 
Finder has a significant NWS portfolio with an interest in five exploration permits covering 14,051 km2.  Finder is strategically positioned in the most prospective areas of the NWS with permits located in the Dampier and Beagle sub-basins and the Vulcan Sub-basin of the Bonaparte Basin.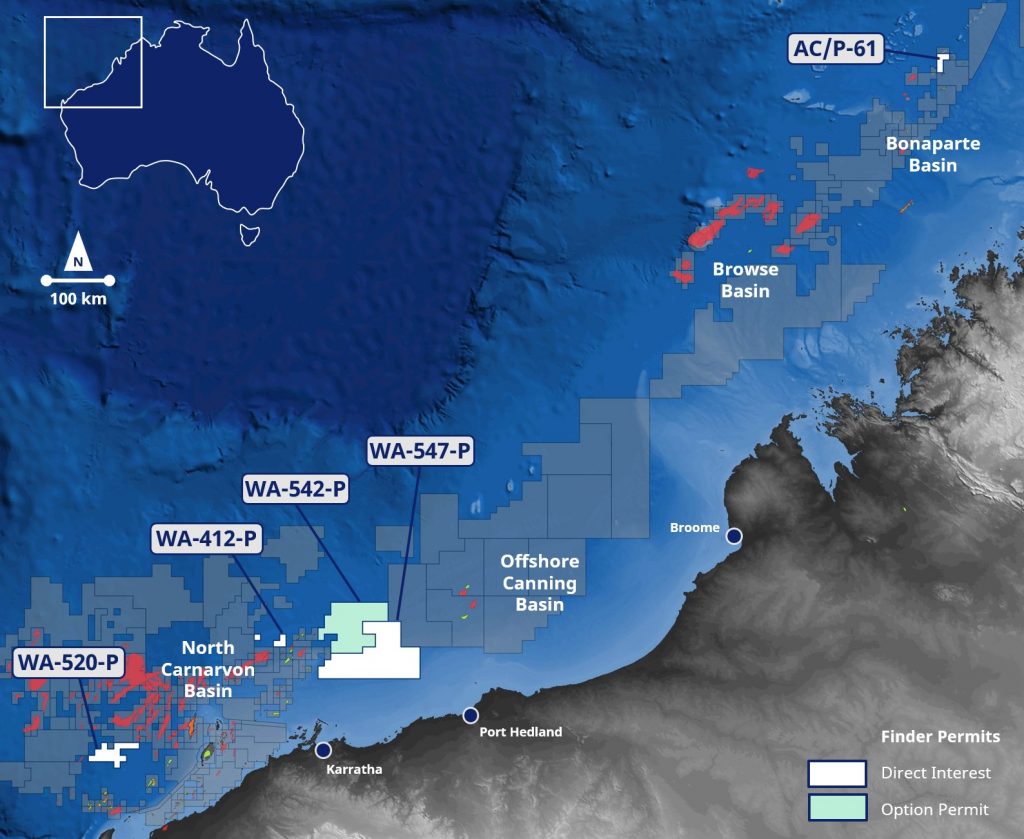 WA-412-P
AC/P 61
WA-547-P
WA-542-P
WA-520-P
WA-412-P
Location and Status
Basin: Northern Carnarvon Basin, Dampier Sub-basin
Area: 322 km2
Water Depth: 125 – 275 metres
Status: Exploration Permit
Interests
Finder Energy (15%)
Fugro Exploration Pty Ltd (15%)
SapuraOMV Upstream (Western Australia) Pty Ltd (70%, Operator)
Permit Highlights
Highlights:
Finder farmed out to SapuraOMV in December 2018 for a promoted carry in the drilling of Kanga-1.
Kanga-1 is scheduled to spud early May 2022 with the Diamond Offshore Ocean Apex semi-submersible drilling rig.
In the event Kanga-1 finds a commercial volume of hydrocarbons, rapid development is possible through a floating production storage and offloading vessel tied back to sub-sea wells.
AC/P 61
WA-547-P
WA-542-P
WA-520-P